Young Voices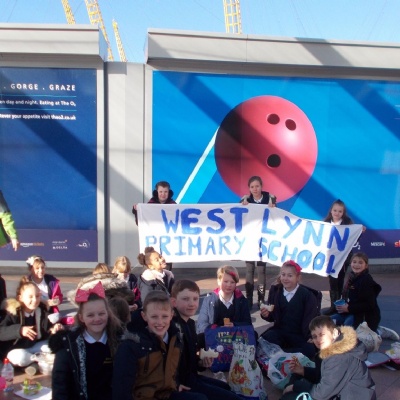 On 18th January 2017 the chidrens choir of West Lynn went to the O2 arena to perform infront of other schools from throughout the country.
The Choir went to the O2 Arena in London to sing in front of loads of people. There were over 7000 children singing.
The children had a fantastic time and have written below about their experiences:
We have all been working so hard trying to learn all of the songs for our trip – We had all been excited for the day!
When we went in for practice we saw Andy Instone and Urban Strides on stage!
It was the greatest thing I have ever done! Mrs. Grimmer taught us to sing lots of different songs.
It was really fun and awesome. The teachers that came with us are Mrs. Grimmer, Mrs. L'Estrange and Mrs. Twaite Smith.
At the concert there were loads of people – over 10,000!
It was the best time of my life.
It was a really exciting day and the performance was exhilarating and full of atmosphere.
We got back at half past twelve at night – I loved it!
Thank you to Keisha, Shania, Lily, Sophie, Isabella, Harmony, Ruby-Louise, Karis, Archey, Toby, Erin, Dean, Olivia and Hayley who all provided a report full of enthusiasm for what was obviously a wonderful experience.
Thank you also to Mrs. Carter who use to teach music at West Lynn Primary School some years ago and who donated a staggering £100.00 to help with the costs of getting the children to the O2. We have been astounded by all the generosity everyone has shown the Choir and we are very grateful.
To view all the photos from the event please click here.