Offical Opening of the Outside Classroom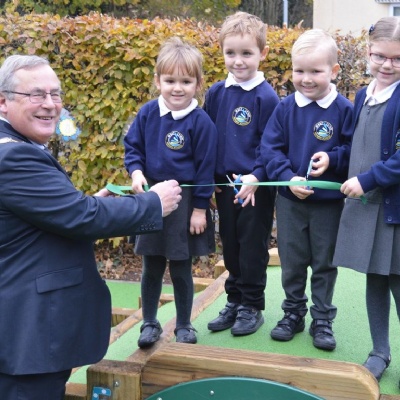 On Tuesday 6th November West Lynn Primary school welcomed the Mayor of Kings Lynn and West Norfolk, Nick Daubney, to officially open their new outside classroom.
The outside classroom room has a mud kitchen, shop, stage, builders shed and climbing area created to enhance learning and play. Teacher Ms Debbie Kosecki, said: "We are really lucky to have this fantastic space for our children. It supports and enhances their learning by allowing them to be creative, and helps develop their independence skills. They can't wait to come outside every day!"
At the opening ceremony, Joanne Borley, Headteacher, said: "We are delighted and feel very lucky to have this space. The children can't wait to use it and we are grateful to the trust, parents and school community."
The children, themselves, are also delighted with the new space saying that their favourite things to do are; making cupcakes in the mud kitchen, playing with the water and planting flowers.
The project was funded by West Norfolk Academies Trust (WNAT) which West Lynn Primary School is part of.
For more articles written on this momentous occasion, please click on the links below:
West Norfolk primary school's £23,000 new outside classroom - EDP November 2018